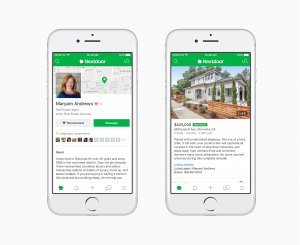 Next Use for Nextdoor
For those that don't already know, Nextdoor is one of the newer local community apps that allows the user to stay in touch with neighbors in your specific neighborhood. Download the app or go to the website, create an account, verify your address and, poof!, you now have access to streams of content specific to your neighborhood.  This content is created and shared by your real life neighbors who are seeing and hearing things in your specific neighborhood. It's like the new age 'word of mouth.'  Stay up to date on neighborhood happenings, crime, jobs, lost and found, and more.
According to collected data, real estate is one of the most popular topics on the app to date.  Creators recognized this need for a niche and have finally created an entire section just for real estate. Here, you will not only be able to see local houses for sale but who in your neighborhood has them listed and you can connect with them on the app.  In this thriving Portland housing market, it's good to know your real estate agent knows your neighborhood an this is the perfect tool to connect with local real estate agents who know you neighborhood in and out.  Our agents know the local market – connect with them on Nextdoor's new Real Estate section.
Information adapted from Nextdoor Blog